Mitzvah Men's Club | Congregation B'nai Israel
Mitzvah Men's Club | Congregation B'nai Israel
The Mitzvah Men's Club is affiliated with the Federation of Jewish Men's Clubs and is active in all parts of synagogue life, providing a social, spiritual and educational outlet for all. Join the fun year round with events: Building the Sukkah, Reverse Tashlich, Taking down the Sukkah, serving latkes at Hanukkah, Burgers and Brew, Men's Club Shabbat, Annual Passover BBQ, and the annual World Wide Wrap, which offers a unique opportunity to come together in prayer and always draws a crowd.
This year we are trying to focus more on social engagement. Please click here if you would like to join us.
If you have any suggestions, please reach out to the CBI office or our board. We'd love to hear your ideas.
Annual Passover BBQ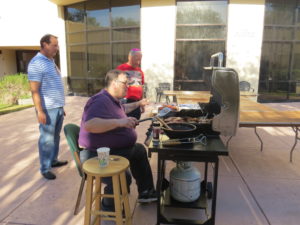 World Wide Wrap (Feb. 13th)

Upcoming Events
Mon, May 16 2022
15 Iyyar 5782
Mon, May 16 2022 15 Iyyar 5782